St Anns Orphanage
SPLASH PAD A HUGE HIT FOR CHILDREN IN NEED
METHUEN, MA – St. Ann's Home & School has just formally opened and dedicated the newest addition to the 92 year old special education residential school, the Splash-Us-Last Splash Pad.  The 1000 square foot above Ground Water Park includes 6 above ground specialty spray features and 16 in-ground spray gets.  Made possible by a generous donation from Charlie and Liz Daher and family, the Splash Pad allows children who are unable to leave the facilities grounds due to their mental health issues to be able to cool down and have a bit of fun during the hot days of summer.
According to St. Ann's President and CEO, Denis Grandbois, the Splash Pad is a big hit with the children and a very "normalizing experience for the children living here who have any number of significant mental, emotional and behavioral health issues."    Grandbois adds that as fun as the water play experience is, that under staff supervision "the children benefit from enhancing their social skills, participating in group play, turn taking, problem solving" along with other skills important to the child's growth and development.
Splash Pads are growing in popularity due to the above ground nature of the water, allowing for all ages to enjoy safe play without the deep water of a traditional pool.
Many cities and towns have added such parks for residents and because of the exceptional contribution of the Daher family, the nearly 150 children under care at St. Ann's are able to enjoy the same.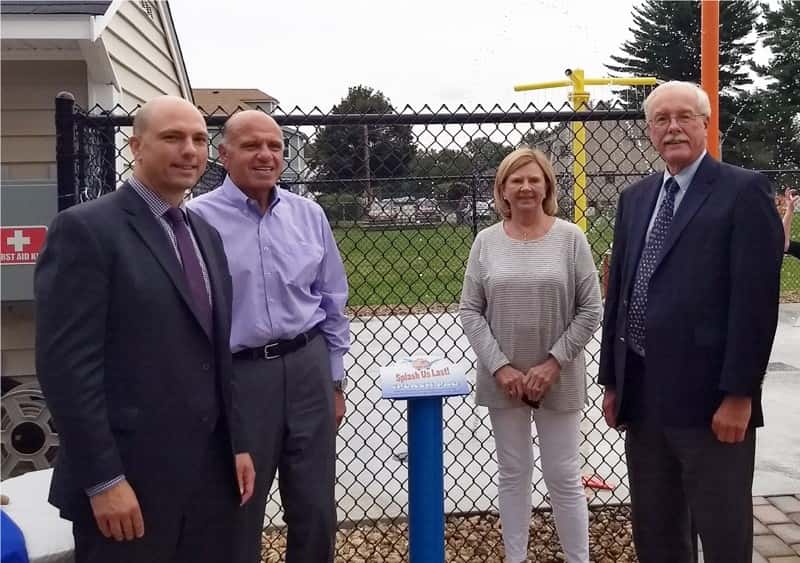 L to R …Charles Daher, Jr., Charlie and Liz Daher of Commonwealth Motors  and Denis Grandbois, President & CEO of St. Ann's Home & School stand in front of the newly opened Splash Pad donated by Charlie and Liz Daher and family.